We have launched an app for our associates!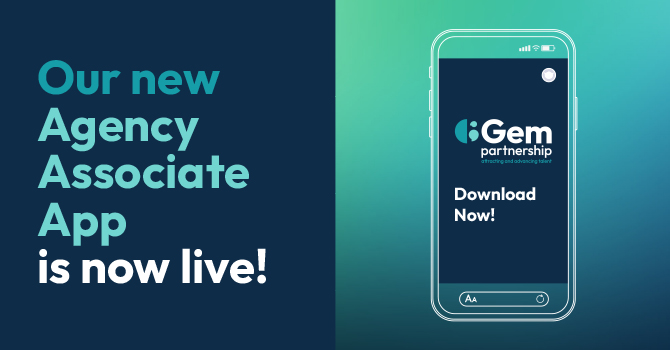 We are delighted to announce that we have launched a dedicated app for all our Agency Associates.
Available to our temporary workforce from the first day of their assignment, or readily available for existing workers, the GEM Partnership Agency Associates App will provide instant access to a range of valuable resources.
The app, which provides a central location for information and forms and can be accessed anywhere at any time, has been designed to streamline and improve our worker experience. So, whether users are at a desk, on a manufacturing floor, or in the comfort of their own home, at the click of a button they can access helpful and informative resources and submit traceable requests, with agreed response times.
The app will allow temporary workers to:
Advise us of an appointment or an absence.
Order additional Workwear/PPE.
Update your details with us (address/phone number/bank details etc.).
Access valuable welfare and wellbeing resources
Submit availability or timesheets (where required).
Contact our team.
Access our Careers Advice Handbook.
Read our knowledge bank which contains key employment FAQs.
…And so much more!
At GEM Partnership we pride ourselves on delivering exceptional levels of service to the clients and the candidates we work with and technology is an integral part of this. In recent years we have been further incorporating advanced technology into our processes and business practices – the app is just one of the many ways in which we have done this. We have also introduced the use of video technology into our interview process, refreshed our website to provide a seamless user journey, and launched an internal app for our employees.
How to download the app
From your mobile or tablet, you can simply click the link we share with you and get started. When you click the link, the app will open on your web browser, then just select to add this to your home screen as an app.
If you have temporary workers through GEM Partnership, please do let them know about our app and its many benefits!
We've designed this app with you in mind, so we would love to hear your feedback. Please contact us if you have any questions.